Welcome to
Dragons Blood @ UM
Guild Leader – Widow Maker
Tag [D ~ B]
2 June 2011
Dragon's Blood is recruiting for new members of all skills and experience to help us grow into a happy and prosperous guild.
We are a small Guild, but will grow quickly as we are willing to help anyone who is willing to help them selves.
Everyone is welcome, come join me on a journey and enjoy your game.
I will not tolerate Drama.
No Demands put on you to do certain skills.
Food will be supplied as we grow and get stock.
I do enjoy working as a team, so team players are very welcome
Message Widow Maker
"Even though we've changed and we're all finding our own place in the world,
we all know that when the tears fall or the smile spreads across our face,
we'll come to each other because no matter where this crazy world takes us,
nothing will ever change so much to the point where we're not all still friends."
She stands there alone, Dressed in the finest clothes,
A woman with hair like jet, And eyes deeper than midnight.
She is a mystery to all
A Queen Of Dragons
Her stare holds whole galaxies, Her smile contains thunder,
She has wisdom beyond measure,
And power beyond our control. She is a dreamer of worlds.
A Queen Of Dragons
Her presence commands respect, and fear in equal measure.
A stranger to her own race
A Queen Of Dragons
Dragons Blood
amrytje

Member Since: 2007-06-29 05:20:30
Active playing time: 853 Days, 22 Hours, 52 Minutes
Member Number: 0000002215
Character Experience: 154,907,324
Character Level: 111
Highest Skill: Combat Level 126
Nationality: Faldorian

Dragons Blood
Selene


Member Since: 2009-02-05 02:18:45
Active playing time: 180 Days, 23 Hours, 14 Minutes
Member Number: 0000009066
Character Experience: 3,903,195
Character Level: 43
Highest Skill: Cooking Level 48
Nationality: Erfdarian

Dragons Blood
iLikeJam

Member Since: 2008-09-14 07:58:02
Active playing time: 312 Days, 19 Hours, 44 Minutes
Member Number: 0000007345
Character Experience: 25,408,947
Character Level: 70
Highest Skill: Combat Level 78
Nationality: Odtoni
Guild: SmAsHeD oNeS
Guild Position: Co-Leader

Dragons Blood
Andinio


Member Since: 2007-11-10 14:43:02
Active playing time: 792 Days, 16 Hours, 55 Minutes
Member Number: 0000003695
Character Experience: 216,930,736
Character Level: 121
Highest Skill: Combat Level 136
Nationality: Faldorian
Guild: Zetsumei
Guild Position: Leader

Dragons Blood
yippee

Member Since: 2009-03-19 13:42:19
Active playing time: 185 Days, 6 Hours, 53 Minutes
Member Number: 0000009601
Character Experience: 3,226,456
Character Level: 41
Highest Skill: Construction Level 56
Nationality: Faldorian
Guild: Zetsumei
Guild Position: Nawty by Nature

Dragons Blood
~matt~

Member Since: 2008-09-25 06:58:25
Active playing time: 68 Days, 11 Hours, 20 Minutes
Member Number: 0000007473
Character Experience: 930,700
Character Level: 30
Highest Skill: Crafting Level 27
Nationality: Erfdarian

Dragons Blood-Visitor
Slomo


Member Since: 2008-08-18 14:44:33
Active playing time: 1300 Days, 4 Hours, 17 Minutes
Member Number: 0000007011
Character Experience: 51,307,125
Character Level: 84
Highest Skill: Smithing Level 115
Nationality: Odtoni
Guild: Slan Sabhailte
Guild Position: Smith

Dragons Blood
Zombie_Monkey


Member Since: 2008-09-02 21:45:33
Active playing time: 594 Days, 14 Hours, 0 Minutes
Member Number: 0000007182
Character Experience: 39,318,635
Character Level: 78
Highest Skill: Woodcutting Level 90
Nationality: Neutral
Guild: Game on, degenerates!
Guild Position: Public nuisance

Dragons Blood
Zombie_Frog


Member Since: 2007-06-13 04:41:53
Active playing time: 895 Days, 3 Hours, 49 Minutes
Member Number: 0000001980
Character Experience: 51,903,469
Character Level: 84
Highest Skill: Combat Level 90
Nationality: Odtoni
Guild: PWI
Guild Position: Inmate

Dragons Blood
hoodedmaster

Member Since: 2007-12-17 20:13:12
Active playing time: 269 Days, 4 Hours, 14 Minutes
Member Number: 0000004063
Character Experience: 9,785,571
Character Level: 55
Highest Skill: Combat Level 59
Nationality: Erfdarian
Guild: Hail to the Lady Garden
Guild Position: Guild Member

Dragons Blood
Kamodobone

Member Since: 2009-03-14 00:40:07
Active playing time: 287 Days, 22 Hours, 45 Minutes
Member Number: 0000009521
Character Experience: 4,946,553
Character Level: 46
Highest Skill: Construction Level 45
Nationality: Faldorian

Dragons Blood
Drake

Member Since: 2012-05-19 05:38:49
Active playing time: 0 Days, 0 Hours, 0 Minutes
Member Number: 0000016493
Character Experience:
Character Level: 1
Highest Skill: Level 1
Nationality: Faldorian

Dragons Blood
KiloJ


Member Since: 2007-07-23 00:56:26
Active playing time: 224 Days, 4 Hours, 12 Minutes
Member Number: 0000002510
Character Experience: 12,779,770
Character Level: 59
Highest Skill: Combat Level 70
Nationality: Odtoni
Guild: Ronin
Guild Position: Procurement Specialist

Dragons Blood
suffer


Member Since: 2008-01-28 09:26:38
Active playing time: 174 Days, 16 Hours, 23 Minutes
Member Number: 0000004532
Character Experience: 6,452,341
Character Level: 49
Highest Skill: Mining Level 52
Nationality: Erfdarian

Dragons Blood
Momiji

Member Since: 2011-09-16 07:48:54
Active playing time: 3 Days, 14 Hours, 55 Minutes
Member Number: 0000015516
Character Experience: 41,424
Character Level: 12
Highest Skill: Woodcutting Level 12
Nationality: Faldorian

Dragons Blood
belz


Member Since: 2008-03-22 08:27:56
Active playing time: 413 Days, 10 Hours, 59 Minutes
Member Number: 0000005221
Character Experience: 15,602,723
Character Level: 62
Highest Skill: Mining Level 72
Nationality: Odtoni
Guild: Movodian Army of Demons
Guild Position: Dark Princess

Members
---
| Rank | Player | Level | Exp | Gained Today (Since Yesterday) |
| --- | --- | --- | --- | --- |
| 1 | silkcom [~DB~] | 72 | 28,653,295 | |
| 2 | rockman [~DB~] | 64 | 17,218,721 | |
| 3 | chem [~DB~] | 63 | 17,075,260 | |
| 4 | spud [~DB~] | 51 | 7,546,701 | |
| 5 | BabyGirly [~DB~] | 35 | 1,647,016 | |
Love this... profanities removed lol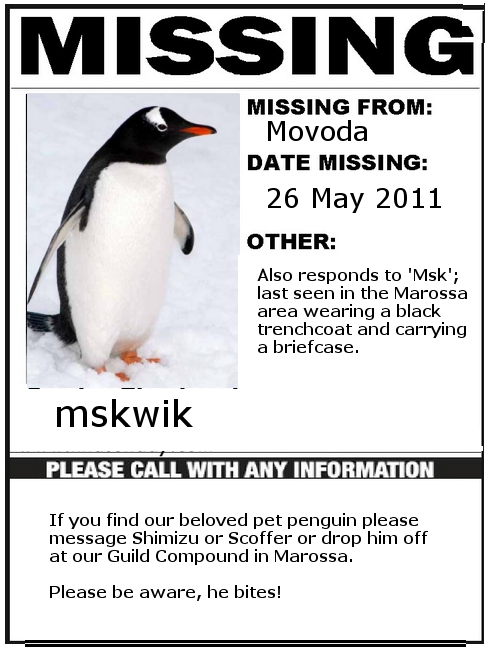 This is very cute lol
«Top»