EvIl GeEk
The difference between nerds and geeks are
"geeks get it done"
Evil Geek


Member Since: 2009-03-19 06:08:15
Active playing time: 256 Days, 5 Hours, 32 Minutes
Member Number: 0000009594
Character Experience: 24,362,833
Character Level: 69
Highest Skill: Combat Level 83
Nationality: Odtoni
Guild: Zetsumei
Guild Position: Co-leader

Evil Geek's Skills
Combat Level 83 (48,590,568 Exp)
Smithing Level 44 (4,203,331 Exp)
Speed Level 42 (3,493,314 Exp)
Cooking Level 32 (1,246,533 Exp)
Magic Level 23 (355,673 Exp)
Mining Level 21 (271,676 Exp)
Harvesting Level 21 (252,889 Exp)
Construction Level 20 (221,322 Exp)
Woodcutting Level 18 (153,517 Exp)
Trading Level 17 (122,482 Exp)
Fishing Level 12 (44,373 Exp)
Crafting Level 10 (23,045 Exp)
Cards Level 2 (570 Exp)
These are my stats atm:
Ranked #389 in Character Level
Ranked #260 in Combat
Ranked #412 in Speed
Ranked #828 in Magic
Ranked #408 in Trading
Ranked #128 in Smithing
Ranked #1,324 in Mining
Ranked #1,927 in Woodcutting
Ranked #1,407 in Harvesting
Ranked #2,130 in Fishing
Ranked #556 in Cooking
Ranked #1,432 in Construction
Ranked #1,431 in Crafting
Ranked #1,222 in Cards
«
http://www.wizards.com/magic/playmagic/whatcolorareyou.asp
»
"
"
NIGHTWALKER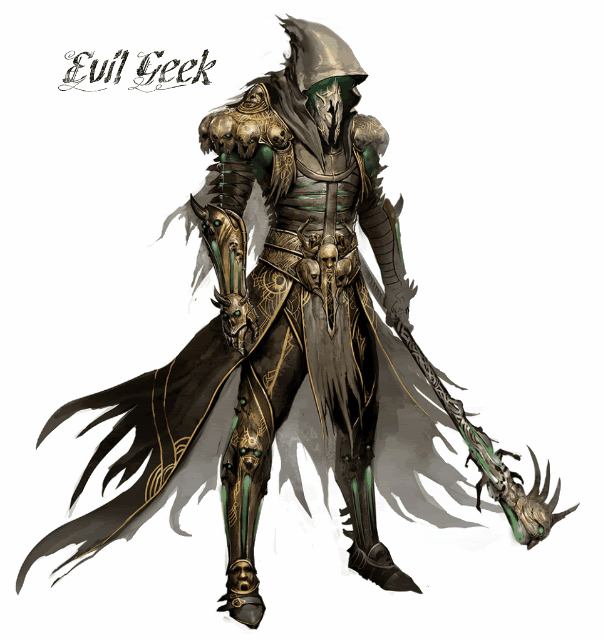 Nightwalkers are human-shaped horrors that haunt the darkness.

Size / Type?: Huge Undead (Extraplanar)
Hit Dice: 21d12+42 (178 hp)
Initiative: +6
Speed: 40 ft (8 squares)., fly 20 ft. (poor)
Armor Class: 32 (–2 size, +2 Dex, +22 natural), touch 10, flat-footed 30

Base Attack / Grapple?: +10/+34
Attack: Slam +24 melee (2d6+16)
Full Attack: 2 slams +24 melee (2d6+16)
Space / Reach?: 15 ft./15 ft.
Special Attacks: Crush item, desecrating aura, evil gaze, spell-like abilities, summon undead

Special Qualities:
Aversion to daylight, damage reduction 15/silver and magic, darkvision 60 ft., immunity to cold, spell resistance 29, telepathy 100 ft., undead traits

Saves: Fort +11, Ref +11, Will +19
Abilities: Str 38, Dex 14, Con —, Int 20, Wis 20, Cha 18

Skills: Concentration +28, Diplomacy +6, Hide +18*, Knowledge (arcana) +29, Listen +29, Move Silently +26, Search +29, Sense Motive +29, Spellcraft +31, Spot +29, Survival +5 (+7 following tracks)

Feats: Cleave, Combat Expertise, Combat Reflexes, Great Fortitude, Improved Disarm, Improved Initiative, Power Attack, Quicken Spell-Like Ability (unholy blight)

Environment: Plane of Shadow

Organization: Solitary, pair, or gang (3–4)
Alignment: Always chaotic evil

Advancement: 22–31 HD (Huge); 32–42 HD (Gargantuan)

COMBAT
Nightwalkers lurk in dark areas where they can almost always surprise the unwary.
A Nightwalker's natural weapons are treated as magic weapons for the purpose of overcoming damage reduction.

Crush Item (Su): A Nightwalker can destroy any weapon or item of Large size or smaller (even magic ones, but not artifacts) by picking it up and crushing it between its hands. The Nightwalker must make a successful disarm attempt to grab an item held by an opponent. The item is entitled to a DC 34 Fortitude save to resist destruction. The save DC is Strength-based.

Evil Gaze (Su): Fear, 30 feet. A creature that meets the Nightwalker's gaze must succeed on a DC 24 Will save or be paralyzed with fear for 1d8 rounds. Whether or not the save is successful, that creature cannot be affected again by the same Nightwalker's gaze for 24 hours. This is a mind-affecting fear effect. The save DC is Charisma-based.

Spell-Like Abilities: At will—contagion (DC 18), deeper darkness, detect magic, greater dispel magic, haste, see invisibility, and unholy blight (DC 18); 3/day—confusion (DC 18), hold monster (DC 19), invisibility; 1/day—cone of cold (DC 19), finger of death (DC 21), plane shift (DC 21). Caster level 21st. The save DCs are Charisma-based.

Summon Undead (Su): A Nightwalker can summon undead creatures once per night: 7–12 Shadows, 2–5 Greater Shadows, or 1–2 Dread Wraiths. The undead arrive and serve for 1 hour or until released.
Skills: *When hiding in a dark area, a Nightwalker gains a +8 racial bonus on Hide checks.

TACTICS
The Nightwalker is an exceedingly intelligent foe that makes the best use of all its abilities. It favors using its spell-like abilities to divide and disable its enemies, then closing to melee with opponents it has isolated from their allies.

Prior to combat:
The Nightwalker keeps its see invisibility power active most of the time. It uses haste and invisibility to prepare for battle.


Round 1: Move to within 30 feet to make use of gaze attack and strike with confusion or hold monster, coupled with a quickened unholy blight.
Round 2: Hit a spellcaster with finger of death and another quickened unholy blight.
Round 3: Move up to engage the enemy and attempt to disarm an enemy fighter.
Round 4: Crush the disarmed weapon (or use gaze attack if disarm attempt failed).
Round 5: Full attack against the unarmed foe.

Monsters killed by Evil Geek
6 Baby Flame Giant
11 Baby Frost Giant
158 Bandit
8 Barktomi Fighter
5 Barktomi Raider
7,014 Bear
88,542 Bronze Golem
1,004 Brown Toad
89 Bunny
665 Cave Dragon
19,489 Cave Goblin
5,079 Cavelurk
332 Chicken
7,172 Cougar
353 Deer
1 Dennech Cehuvah
161 Drop Bear
2 Elder Ash
18,524 Elephant
102 Elven Mage
9 Faerie Lord
29 Fairy
15 Firbolg Giant
190 Fox
573 Frog
5 Ghost
1,677 Giant Black Bat
7,703 Giant Bomb Beetle
7,788 Giant Bug Beetle
7,774 Giant Ravager Beetle
192 Giant Salamander
31 Gold Golem
179 Griffin
1,346 Grizzly Bear
1,170 Grue
1,531 Hawk
19,247 Hobgoblin
88,554 Iron Golem
25 Killer Bunny
62,820 Killer Vine
1 King Bear
10 Lightning Elemental
11,781 Lion
62,624 Living Oak
152 Lizardman Zombie
86 Maanvaki Scout
49 Maanvaki Shaman
193 Maanvaki Warrior
44,704 Marakite Mage
25,896 Marakite Master
45,988 Marakite Trainee
17 Marossian Slave Warrior
203 Minotaur
673 Mountain Goat
710 Mountain Lion
23 Nagaromi Infantry
327 Nagaromi Miner
1,463 Nagaromi Scout
17 Nagaromi Spearman
344 Nagaromi Woodcutter
11 Ona Spearman
6 Ona Warlord
15 Ona Warrior
46 Parrot
182 Pirate
6 Pirate Admiral
49 Pirate Captain
94 Pirate Grenadier
1 Quarter Master
1 Raging Tree
21,566 Rhizard
5,221 Rhizard Plunderer
12,107 Rhizard Prowler
64 Saphirik Warrior
11 Sjirkomi Cook
5 Sjirkomi Shaman
10 Sjirkomi Soldier
268 Squirrel
88,581 Steel Golem
1 Thief
30,842 Turtle
107 Vampire
1,628 White Bat
13,777 Wild Elven Gatherer
13,813 Wild Elven Hunter
134 Willow
273 Wolf
46 Yeti
---
So Evil Geek huh... Does that mean ur gonna kill me with ur thick glasses
---
Goddess-of-War stopped by to leave you a hug
---
Guinevere came and marked your page
Hugs and Kisses :)
---
dreamer349
Stopped by to give you some love
---
The Love Sorceress casts many good spells on you for all your days you know who dropped by to give you a :hug:
---
Walker Bo thundered across your page on his valiant steed
---
You've just been Caboose'd
---
just dropped by to say hello
---