Proud to be the
Xo Xo
Mining Machine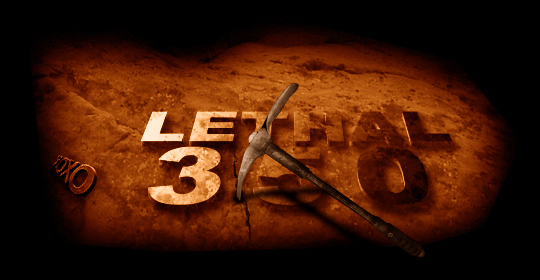 Lethal350


Member Since: 2006-12-19 21:38:26
Active playing time: 100 Days, 16 Hours, 3 Minutes
Member Number: 0000000477
Character Experience: 2,496,293
Character Level: 39
Highest Skill: Mining Level 38
Nationality: Odtoni

Lethal350's Skills
Mining Level 38 (2,326,833 Exp)
Combat Level 38 (2,235,444 Exp)
Speed Level 24 (413,876 Exp)
Magic Level 16 (101,322 Exp)
Construction Level 13 (55,488 Exp)
Woodcutting Level 12 (44,791 Exp)
Smithing Level 11 (35,391 Exp)
Cooking Level 10 (23,958 Exp)
Crafting Level 10 (21,802 Exp)
Fishing Level 6 (6,906 Exp)
Harvesting Level 5 (4,730 Exp)
Trading Level 5 (3,605 Exp)
Cards Level 1 (73 Exp)
Ranked #1,381 in Character Level
Ranked #1,616 in Speed
Ranked #364 in Mining
Ranked #1,006 in Combat
Ranked #1,507 in Magic
Ranked #2,292 in Trading
Ranked #3,093 in Woodcutting
Ranked #1,257 in Smithing
Ranked #2,361 in Construction
Ranked #1,979 in Cooking
Ranked #3,887 in Fishing
Ranked #1,574 in Crafting
Monsters killed by Lethal350
10 Baby Flame Giant
5,554 Bear
13 Bunny
9,141 Cave Goblin
2,451 Cavelurk
5,710 Cougar
1 Dennech Cehuvah
18,935 Elephant
5 Ghost
42 Giant Black Bat
1,096 Grizzly Bear
583 Grue
1,676 Hawk
9,211 Hobgoblin
1 King Bear
11,993 Lion
33 Maanvaki Scout
14 Maanvaki Shaman
77 Maanvaki Warrior
6 Minotaur
22 Mountain Goat
17 Mountain Lion
21 Nagaromi Infantry
329 Nagaromi Miner
1,547 Nagaromi Scout
25 Nagaromi Spearman
351 Nagaromi Woodcutter
36 Parrot
69 Pirate
9 Pirate Captain
1 Quarter Master
60 Saphirik Warrior
1 Sjirkomi Cook
55 White Bat
There has been 2764 views to this page.
Mi casa su casa ma brother Togz
For being such a good Guildmate I thank you ~ Makeveli
OMG LMAO You offtapping tripper I Luv yoo
!
Rave On
! <3 Rave.and.Enslave
Nice Stats Lethal~ XO Babsy
Nice page Lethal you adorable Aussie <3
Glassrose
meatpie lit your page on fire >:)
Love
the
Page
mate
Zaknafein
Krunk left cool rock here for Lethal
!
Lastknight tagged your page!
Hugs and Kisses...<3 ya babe! Mandi
Yoshi
was here and left you an Egg!
---
Klisten
has slapped her card on your page
---
Jebus
has marked his territory on your page
Tarl say
Nice page
and
Excellent logo Lethal
:D
cant believe she hasnt been here before :(
3 Fiddy

Rave came looking for Lethal.. x