Lifesfarce
if ur looking for me and cant find me online ill be on xbox live pretty much every day
so if u have an xbox live account u can send me a message my gamer tag is
forgo to reload

those unforgettable days,
for them i live
Character Level 41 with 3,150,168 exp

lifesfarce


Member Since: 2009-03-23 00:11:36
Active playing time: 157 Days, 3 Hours, 3 Minutes
Member Number: 0000009631
Character Experience: 3,150,168
Character Level: 41
Highest Skill: Harvesting Level 47
Nationality: Faldorian


lifesfarce's Skills

Harvesting Level 47 (5,130,249 Exp)
Woodcutting Level 24 (414,180 Exp)
Speed Level 24 (409,791 Exp)
Construction Level 20 (216,042 Exp)
Magic Level 19 (191,475 Exp)
Mining Level 18 (154,523 Exp)
Combat Level 17 (143,182 Exp)
Fishing Level 15 (92,199 Exp)
Smithing Level 15 (77,609 Exp)
Cooking Level 13 (56,399 Exp)
Trading Level 10 (25,345 Exp)
Cards Level 3 (1,067 Exp)
Crafting Level 2 (465 Exp)




Ranked #1,241 in Character

Ranked #1,599 in Speed

Ranked #1,674 in Mining

Ranked #1,680 in Combat

Ranked #1,148 in Magic

Ranked #1,222 in Trading

Ranked #1,128 in Woodcutting

Ranked #877 in Smithing

Ranked #1,425 in Construction

Ranked #1,457 in Cooking

Ranked #1,518 in Fishing

Ranked #3,210 in Crafting

Ranked #204 in Harvesting

Ranked #916 in Cards

Monsters killed by lifesfarce


2 Baby Frost Giant
1,872 Bear
14 Bunny
77 Chicken
1,916 Cougar
5,632 Deer
647 Elephant
6 Elk
9 Fairy
2,725 Fox
2 Ghost
368 Grizzly Bear
58 Hawk
1 King Bear
389 Lion
12 Nagaromi Miner
61 Nagaromi Scout
1 Nagaromi Spearman
18 Nagaromi Woodcutter
105 Squirrel
229 Wolf

!!
1704 people came to visit lifesfarce.
only those people i trust can click this link
http://smg.photobucket.com/albums/v286/omenprime/family/
http://movoda.net/man/Olympus
series 1
| | |
| --- | --- |
| limited tester card being remade | discontinued |
| | discontinued |
| | |
| | |
series 2
series 3

http://www.wizards.com/magic/playmagic/whatcolorareyou.asp
Take the Magic: The Gathering 'What Color Are You?' Quiz.
and your inner dragon is a ....
Dragon of Decay
In the war between good and evil, your inner Dragon self is rotten with
the stench of EVIL.
When it comes to the powers of Chaos vs. those of Law and Order, your
inner dragon is a risk taker and answers to no one.
As far as magical tendancies, a Dragon of Decay's nature does not lend
itself well to the ways of Magic.
During combat situations, whether by spells or by claw, your inner dragon
will do whatever it takes to get the job done.
whats your inner dragon http://travel-hounds.com/dragon/quiz.asp


If there ever was an apparition of Evil to strike terror into the
hearts of man and beast, your Inner Dragon is it. Blackies are
a fairly common dragon and are considered one of two harmonious
dragons. Your antithesis is the White Dragon. Together, you two
embody the Yin and Yang concept of eastern religions (especially Taoism).

But of course, being a Blackie on the inside you couldn't care less
about that religion garbage. You like to chomp things, cause trouble,
make off with people's significant others, and so on and so forth. Your
favorable attributes are night, the Moon, the stars, dreams, psychic
guidance, balancing Karma, seeking truth, and helpful dark magic.
Everybody's still got to watch out for you though, because deep
down you like to smite at random and have a nasty breath weapon
combination of Fire and Acid. *evil grin* Fun, no?
take the quiz http://www.quiz.dmbh.org/



Sign under the line
---
You have been signed by me lol hope your haveing fun lol
---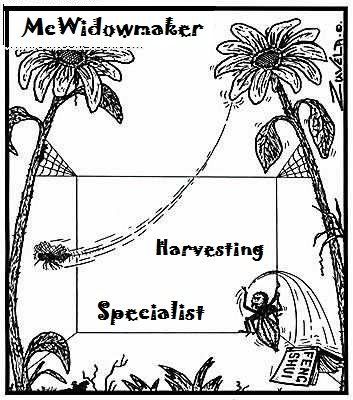 Widdie spun his web here
---
Miss_Leonie came to say hi
---
stopped by to say hi :)
---
dreamer349
!!
Stopped by to give you some love
---
suzanne-a
stopped by to say hi. i love u, my fellow guildie. :D
---
Awesome card work bro.