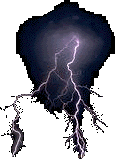 Raging storms, evil gods are they
Ruthless demons, who in heaven's vault were created, are they,
Workers of evil are they,They lift up the head to evil, every day to evil
Destruction to work. Of these seven the first is the South wind...
The second is a dragon, whose mouth is opened...That none can measure.
The third is a grim leopard, which carries off the young ...
The fourth is a terrible Shibbu ...
The fifth is a furious Wolf, who knoweth not to flee,
The sixth is a rampant ... which marches against god and king.
The seventh is a storm, an evil wind, which takes vengeance,
Seven are they, messengers to King Anu are they,
From city to city darkness work they,
A hurricane, which mightily hunts in the heavens, are they
Thick clouds, that bring darkness in heaven, are they,
Gusts of wind rising, which cast gloom over the bright day, are they,
In the height of heaven, like lightning flashing, are they,
To wreak destruction forward go they,
In the broad heaven, the home of Anu, the King, evilly do they arise, and none to oppose.
Day and night, without ceasing, he ordained to stand,
When the seven evil gods stormed the vault of heaven,
Before the gleaming Sin, they set themselves angrily,
The seven evil gods, death-dealing, fearless are they,
The seven evil gods, like a flood, rush on, the land they fall upon, do they,
Against the land, like a storm, they rise.