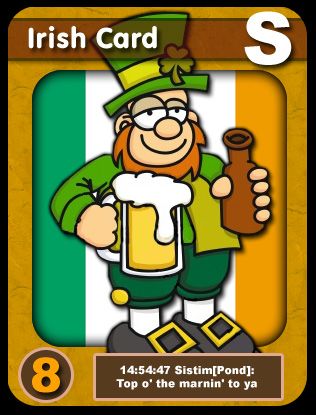 Sistim

Member Since: 2008-02-24 13:10:25
Active playing time: 110 Days, 15 Hours, 29 Minutes
Member Number: 0000004859
Character Experience: 6,082,201
Character Level: 49
Highest Skill: Combat Level 58
Nationality: Erfdarian

Sistim's Skills
Combat Level 58 (12,265,356 Exp)
Speed Level 38 (2,253,592 Exp)
Harvesting Level 20 (244,245 Exp)
Fishing Level 20 (238,489 Exp)
Mining Level 19 (192,483 Exp)
Cooking Level 18 (170,800 Exp)
Magic Level 16 (103,296 Exp)
Construction Level 13 (59,940 Exp)
Woodcutting Level 13 (55,524 Exp)
Trading Level 10 (25,857 Exp)
Smithing Level 4 (2,200 Exp)
Crafting Level 3 (1,080 Exp)
Cards Level 3 (842 Exp)
Monsters killed by Sistim
1 Baby Dragon
9 Baby Flame Giant
1 Barktomi Raider
2,176 Bear
3 Bunny
17,614 Cave Goblin
3,835 Cavelurk
110 Chicken
1,775 Cougar
780 Deer
1 Dennech Cehuvah
1 Elder Ash
3,367 Elephant
12 Fairy
482 Fox
66 Frog
5 Ghost
1 Giant Black Bat
6,777 Giant Bomb Beetle
6,739 Giant Bug Beetle
6,927 Giant Ravager Beetle
1,567 Griffin
460 Grizzly Bear
1,175 Grue
275 Hawk
71 Headless Horseman
18,106 Hobgoblin
44,077 Killer Vine
1 King Bear
2,073 Lion
43,823 Living Oak
14,021 Lizard Warrior
13,834 Lizardman
8 Maanvaki Scout
3 Maanvaki Shaman
13 Maanvaki Warrior
334 Marakite Mage
190 Marakite Master
379 Marakite Trainee
17 Minotaur
76 Mountain Goat
89 Mountain Lion
2 Nagaromi Infantry
46 Nagaromi Miner
247 Nagaromi Scout
6 Nagaromi Spearman
63 Nagaromi Woodcutter
16 Parrot
87 Pirate
6 Pirate Captain
30 Pirate Grenadier
1 Quarter Master
26 Raccoon
1,534 Rhizard
377 Rhizard Plunderer
933 Rhizard Prowler
60 Saphirik Warrior
3 Sjirkomi Shaman
1 Sjirkomi Soldier
53 Spectre
106 Squirrel
2,372 Turtle
2 Werewolf
1 White Bat
9,127 Wild Elven Gatherer
9,545 Wild Elven Hunter
6 Willow
674 Wolf
Sistim
Ranked #970 in Character Experience
---
Rankings

Ranked #970 in Character Level
Ranked #675 in Speed
Ranked #1,595 in Mining
Ranked #625 in Combat
Ranked #1,529 in Magic
Ranked #1,274 in Trading
Ranked #2,931 in Woodcutting
Ranked #3,355 in Smithing
Ranked #2,373 in Construction
Ranked #1,157 in Cooking
Ranked #1,061 in Fishing
Ranked #3,082 in Crafting
Ranked #1,281 in Harvesting
Ranked #1,088 in Cards
---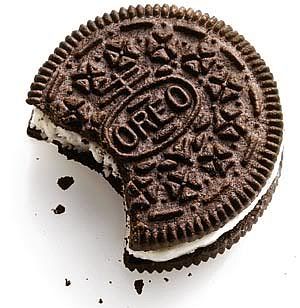 ---
---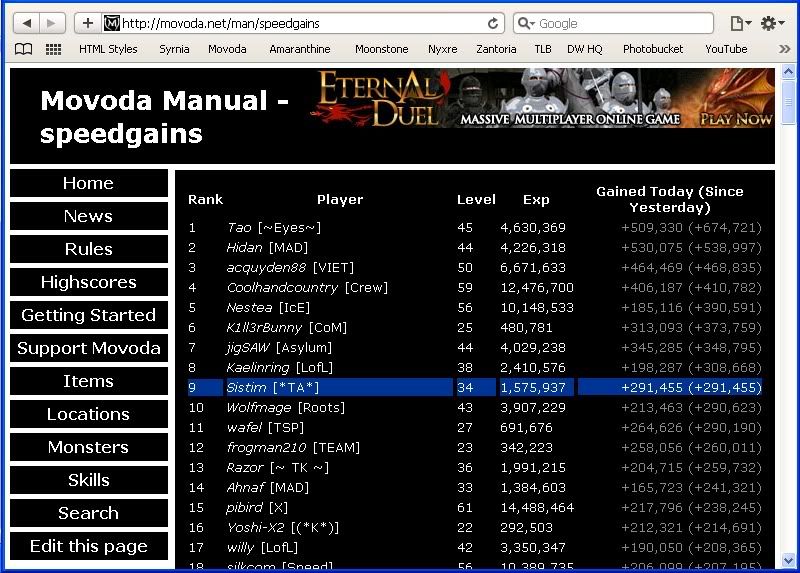 ---
FUNNY CHAT QUOTES
10:48:47 Sistim[Pond]:
Anyone have 3 excites to spare? I can come to you
10:49:11
squishyblob
[X]:
yep sistim
10:49:17 squishyblob[X]:
but where are you?
10:49:35 Sistim[Pond]:
Bulbas, but I can come to you
10:49:48 squishyblob[X]:
it's okay faster for me to go down
10:49:59 Sistim[Pond]:
Thanks
10:50:09
*Kovo89 must control his dirty mind. *
11:40:14 boy1[The WC]: enything to harvest at the greenhouse ?
11:40:33 Sistim[1st]:
Bananas
11:41:02 boy1[The WC]: thx sistem
11:41:18 Sistim[1st]:

---
There have been 5742 People that have entered this Sistim.
---
GUESTBOOK
Wi-Fi-Man came by to hack this Sistim
---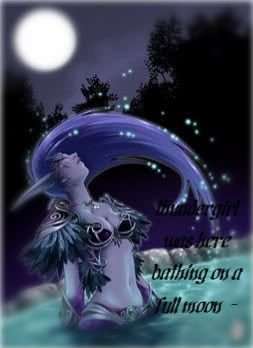 NateHarper came to run over your bunny! Boing :D
Tori Lou 87
says pick Apples :)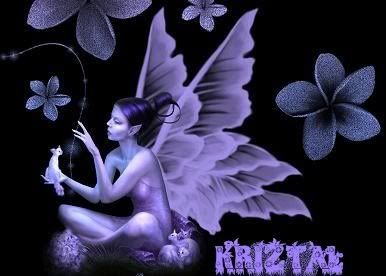 kriztal
planted herself here:P
---
Creek_1
just had to say that resteraunts special is Smexy :P
---
Scare
AKa Kashi had to sign sissy's page.. because he had to :P Hope your interweb gets fixed soon sissy :( :bow:
---
cana
stopped by but forgot where he left his picture...
---

Just poppin by to say Hi! *BB20*
aace
dropped his card and says hi.

Lebowski

you filthy scouser –
dsmitts
☺☻♥♦♣
Tikemike 62
was here just in time to ALT-er the page ☺☻♥♦♣
DivineofRexaura Stop by to give you a turtle shell
only cause you keep asking
Heatherr came to steal your oreo.
You have been tagged by Da_nana the Leader of the Royal Family of the JACK Guild
As you ramble on through life, whatever be your goal, keep your eye upon the donutů and not upon the hole.
Never settle for being average... you would be just as close to the bottom as you are to the top.